NEWS
06 November 2020   I'm very happy to  be confirmed as a participant in the forthcoming BFI Introduction to Talent mixer.
06 December 2019   I'm delighted to have competed my MA Screenwriting at London College of Communication. The strong focus on developing writing craft and industry awareness has laid a quake proof foundation.
21 November 2019   I completed judging at the London Short Film microfestival. A fantastic opportunity to review over 70 shorts, where I learn as much as I offer.
14 May 2019   The Ballad of Tony Gold is published today, as a 40 minute audio file and available for purchased download on the Docklands Productions website.
3 March 2019   London Short Film confirms me as a returning judge on their 2019 microfest panel.
10 February 2019    I'm honoured and delighted to attend this year's EE British Academy Film Awards at the Royal Albert Hall.
28 January 2019   I've been treated to a night off from hard study, with an invite to share an evening of conversation with BAFTA award winning star of stage and screen, Jonathan Price and BAFTA Academy Circle members.
20 November 2018   Tinopolis asked me to give an update on the support I'm receiving though the BAFTA Tinopolis Scholarship. (see link)
16 October 2018   BAFTA confirm renowned writer Tony Marchant as my mentor, as part of his support for their New Talent programme.
18 September 2018   An inspirational start to my year as a BAFTA Scholar, meeting a hero, when BAFTA welcomed Academy Circle patrons and supporters of The British Asian Trust to an evening of conversation with BAFTA-winning actor Sir Ben Kinglsey.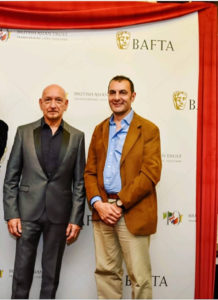 17 September 2018   I was offered a very warm welcome by the senior team of Tinopolis, at the inaugural reception for BAFTA Tinopolis Scholarship.
15 September 2018   London Short Film confirm me as a judge on their 2018 microfest panel.
11 September 2018   Today, I'm confirmed as a recipient of the prestigious BAFTA Tinopolis Scholarship 2018, to support  undertaking the world-leading post graduate screenwriting course at the London College of Communication.
Read about my scholarship award here.